Savvy Ways to Survive the Holidays
Image credit: dejahthoris | Flickr
Avoid These 4 Business Gift-Giving Faux Pas
Image credit: Bo's Art
In the business world, gift-giving provides incredible intrinsic and financial rewards. But finding the perfect gift takes a considerable amount of thought — even for those of us who develop gifting plans for a living.
Here, a little imagination can pay off big-time: One of our clients was struggling to get in touch with the president of Target's electronics division, so we did some digging and discovered that he's a big University of Minnesota fan. We carved the lyrics of the school's fight song on a 50-inch slab of cherry wood and included a personalized note. The executive set up a call for the following week.
The Target exec's gift was an example of the personal element a tailored gift adds to cold business interactions: You're delivering more than an engraved knife set or sports memorabilia: You're providing a human connection. But even the most well-intentioned gift can miss the mark. To wow your potential clients, avoid these four gifting faux pas:
1. Don't go beyond your recipient's assistant or spouse.
Social media sites and Google can tell you almost anything about a person's career path and interests, but your contact's assistant is an underutilized resource. Assistants aren't gatekeepers; they're trusted partners who know the person and his or her family intimately. So, send the same — or a better — gift to your recipient's assistant to earn trust and strengthen your relationships.
Spouses are also fair game. But sending gifts to kids makes recipients uncomfortable. Spare the kids unless you've met them — it's better to appreciate the inner circle than invade it.
2. Don't try too hard.
People love persistence, but going 10 extra miles can seem desperate. Don't spend beyond what you would on a nice dinner, a round of golf or sports tickets. If you fork over an amount more than $100 to $1,000 per gift, people will think you're trying too hard.
I have sent large personalized gifts in the thousands of dollars to try to land a meeting with a large prospective university client, only to have the gifts sent back. They were labeled "too nice and over the top," and I got a "we're going in a different direction" response. It was a blow to the ego and the wallet.
Instead, focus on practical luxuries. One of my favorite gifts to send is a Code38, a wine tool from Australia, which I've had personalized with the client's name or signature. The gift works because it's universal and world-class without being outrageously flashy or expensive. Seek to provide the same experience for your contacts.
3. Don't encroach on personal style.
While your gift should speak to the person, some items can be too personal style-wise. It's hard to gauge a person's taste, size, preferred color scheme or mood. Sending jewelry, high-fashion clothing or accessories that totally miss the mark could lead to an awkward interaction.
In an attempt to wow the CEO of a big construction company, I sent him and his wife expensive leather laptop bags. I didn't hear anything and couldn't keep myself from asking him about it. He said that the bag wasn't really his style; he couldn't see himself carrying it. I was disappointed — I loved the costly bag, and it was now going to sit in a closet and go to waste. It was a good lesson that style items can backfire.
The same rules apply to sports merchandise. I recently received some Ohio State University clothing that was thoughtful and expensive, but I'll never wear it. It's too bright, the logo is too big, and it doesn't look good on me. You don't want your gift to receive a one-way ticket to Goodwill. Choose a world-class item that your recipient and his family will use often so your name frequently comes to mind. Sending a $50 tumbler that is best-in-class and represents you well is better than a mediocre $100 Fossil watch that will never be worn.
4. Don't plaster images onto items.
People love seeing their names on customized shirts, license plates and college buildings. But that excitement doesn't extend to photographs or other personalized images. Placing an image on a gift can look strange, and people will generally be picky about which images immortalize them. Leave the person's vacation photos to social media; stick with names and initials.
Once you've sent a personalized gift, follow-up is equally important. Get an email confirmation from the company that helped you execute your gifting campaign. Look for a thank-you note, but know that clients who love their gifts will post about them on social media, comment on the gifts months later and take photos of themselves with them. A response like this is a sure sign you nailed it.
5 Ways to Navigate Clients' Gift Restrictions
Image credit: tdeckard2000 | Flickr
You've handpicked the perfect gift. You've written a thoughtful note. You've presented it to the client — only to see your generosity rejected.
You may be red-faced, but the client feels the need to turn down your gesture for fear of violating company policy on accepting gifts.
In fact, some companies do prohibit gifts, on ethical grounds. But these clients will typically make up only a tiny segment of your client base: Of the tens of thousands of gifts my company has sent, a mere 1 percent have been returned. So, don't cater to the minority and miss out on deepening your most important relationships — your competitors certainly aren't.
And, besides, most organizations build leniency into their policies; so you can still make a powerful impression while operating within the rules.
That's important, because people base their business decisions on relationships, and thoughtful gifts enhance clients' sense of loyalty. You're not "buying" their business; you're staying top of mind by letting them know that you value them. As a bonus, they're more likely to forgive occasional mistakes.
Strategic appreciation and relationship-building 101
Despite all this reassurance, you, like many executives, may still be at a loss when it comes to corporate gifts. Without rules, gift-givers worry about giving inappropriate objects and then appearing silly, cheap or fixated on bribes.
They should worry. Missing the mark on a business gift can be much more damaging than giving vegetarian Uncle Bob a steak-of-the-month club subscription. In business, impersonal or tacky gifts create tension and can cost you valuable relationships.
Fortunately, anyone can perfect the art of gift-giving, because the best gifts aren't always the flashiest or most expensive. Even something as simple as a personalized symbol puts your company top of mind and creates a positive association.
So, show your clients some love — without breaking the rules. You'll come out a winner with these five tips:
1. Create a positive memory point.
Working with national or global clients doesn't give you many opportunities to make an in-person impression. A gift can serve as a stand-in that creates the world-class experience you want the recipient to associate with your brand.
For example, my company worked with the Miami Dolphins to select gifts for the team's suite owners. Anyone could give them a nice dinner or round of golf, but instead the team sent personalized Cutco carving sets. The suite owners loved these unique and tasteful gifts.
2. Give throughout the year.
Even the most personalized items get lost in the December gift-giving frenzy. Instead, give on a "planned randomness" schedule. If you're planning to play golf with key clients, don't just give a box of balls on the course. Send personalized leather toiletry bags two weeks in advance, with a handwritten note saying, "Pack your bags — we have an amazing weekend planned."
And don't wait for an excuse for gift-giving; the element of surprise is always on your side.
If you're worried about gift selection, partner with a company to set up an automated system that sends items once a quarter (or as frequently as you'd like). Take a page from Keith Ferrazzi's Relationship Action Planning creed and make sure you're regularly appreciating your most important clients.
3. Focus on the inner circle.
Executives' assistants and families are often overlooked. Send gifts that include them, such as personalized leather tote bags or gifts for the home. Win the inner circle's loyalty, and you'll win the client's, too.
4. Take care of your clients' tribes.
Along those same lines, your clients' marketing, IT and sales teams are integral parts of their organizations, but these teams also receive less appreciation than they should. By sending gifts, you acknowledge their value and signal that you're paying attention to your clients' tribes.
5. Keep it simple.
People won't know what to do with another padfolio or decorative plaque, but they'll remember you when they grab their engraved smoothie containers. These $40 pieces will stand out from the $10 throwaway pieces they've always received.
In sum, corporate gifting can seem expensive and time-consuming — not to mention risky. But thoughtful gifts lead to referrals, more business from clients and great word-of-mouth marketing. So, don't wait for a milestone — celebrate your clients all year.
Stumped on Office Gifts for the Holidays? Here Are Some Handy Ideas.
Image credit: Corkcicle
This story appears in the December 2015 issue of Entrepreneur. Subscribe »
They say it is better to give than to receive, but giving can also be more nerve-wracking. Offering presents to co-workers and bosses can be stressful. You want them to like it but you don't want to give something too impersonal. Fear not, because the we have a few suggestions. Check out the slideshow below to find holiday gifts that your officemates will love.
Google OnHub Wi-Fi Router ($200)
Image credit: Google
Program this router to prioritize certain devices over others.
Best for: The office data hog who streams video of his dogs through his smartphone all day.
What it says about you: You don't expect him to stop, but this smart router will ensure that the rest of the staff has the Wi-Fi juice to get their work done
Kikkerland Acorn Bluetooth Speaker ($80)
Image credit: Kikkerland
It's a desktop speaker that doubles as a work of art.
Best for: The office music lover.
What it says about you: You acknowledge her audio passion, but you appreciate visual subtlety.
Corkcicle Canteen ($20 and up)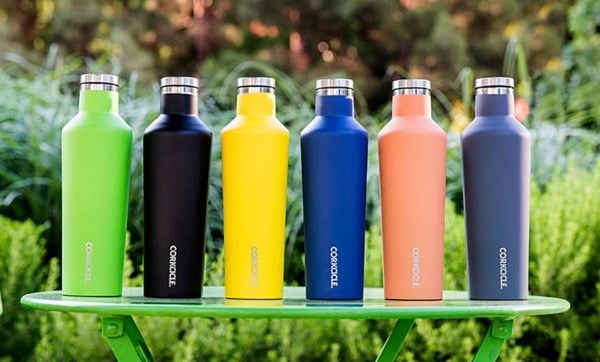 Image credit: Corkcicle
This insulated bottle keeps beverages cold for 25 hours or hot for 12.
Target recipient: That guy whose name you always forget.
What it says about you: Everyone needs to drink, right?
Origamica Blossom Duocolor Light ($124)
Image credit: Origamica
This DIY paper lampshade gives off a soft, natural light.
Target recipient: The account exec who's a maker on the side.
What it says about you: You understand her desire to handcraft her environment—and you believe she has too much free time on her hands.
FluidStance Level ($289 and up)
Image credit: fluidstance | Instagram
A high-tech balance board for the office's stand-up desk geek.
Target recipient: The office surfer/snowboarder.
What it says about you: You want to make sure that when she finds the time to shred, she brings a finely tuned sense of balance to her game.
Moment Lens Case ($70 and up)
Image credit: Moment
This rubberized case slides over an iPhone to hold either a telephoto or wide-angle camera lens.
Best for: The company shutterbug.
What it says about you: You're hip to the Hipstamatics and the power of a gorgeous Instagram feed.
NightStand for Apple Watch ($30)
Image credit: ElevationLab | Facebook
This charger doubles as a nightstand, positioning the watch sideways to turn it into a clock and keeping it in night mode so it remains visible.
Best for: Apple fans.
What it says about you: You're a multitasker, and you expect everyone else to be one, too.
Filson 24-Hour Briefcase ($355)
Image credit: Filson | Facebook
A water-resistant, lightweight bag that holds a laptop and bare essentials for an overnight trip.
Charitable Gifts Don't Have to Be Boring
Image credit: Shutterstock
As conspicuous consumption has been giving way to more conscious consumerism in recent years (Kardashians aside), applying that conscious consumerism to holiday gift-giving can still present a challenge. On the one hand, there are gifts of stuff that may be fun to receive but are likely to end up collecting dust. On the other extreme is the kind of noble, "a donation has been made in your name" giving made famous on Seinfeld by an irate George Costanza: "I got him Yankee tickets. He got me a piece of paper saying I've given your gift to someone else!" Well-intended, sure, but fun and festive — no.
Thankfully, an increasing number of brands are offering ways to give that brings joy to the recipient and benefit the greater good. Warby Parker donates a pair of prescription glasses for every pair of frames or shades purchased by its hip clientele. TOMS famously does the same with shoes and has expanded into similar giving models, including a line of coffee — perfect for casual, intra-office gifts — that supports clean water initiatives.
Feed has provided educational opportunities and more than 85 million meals for children around the world through the sale of its bags, accessories and apparel. Sarah Oliver, a lesser-known startup, has a mission of empowering older Americans by re-engaging them in the economy. The company sells fashion-forward handbags, all of which are hand-knit by seniors (average age of 88) at the Redwoods Retirement community in Northern California.
At my company, Charitybuzz, we call this kind of gifting, "givting." Official dictionary status is pending, but we hope the idea helps fuel a movement to add meaning to our holiday gifts. If even a portion of the billions we spend on holiday shopping is diverted to gifts that benefit the greater good, the opportunity to make a difference is huge. Our holiday GIVT auctions include playing golf with Ian Poulter and Todd Wagner to benefit Dreamflight, Graff Diamonds & Beats by Dre headphones to benefit the National Center for Missing and Exploited Children, lunch with Sony Entertainment CEO Michael Lynton to benefit the Gabrielle's Angel Foundation for Cancer Research and a chance to meet soccer stars Lionel Messi and Cristiano Ronaldo to benefit the Forever Dream Foundation.
There are dozens of other once-in-a-lifetime GIVTs up for auction, from meetings with business leaders and casting agents to walk-on roles and vacations in celebrity homes. Last year, our auctions raised over $6 million for our charity partners and created countless unforgettable moments for the lucky winners.
While admittedly, most Charitybuzz auctions fetch a hefty sum, I'm thrilled to see other organizations making the same model work at a variety of price points. Prizeo allows users to contribute as little as $10 and be entered to win incredible celebrity encounters (how great would a Caddy Shack-inspired round of golf with Bill Murray be?) benefiting worthy causes. For slightly larger donation amounts, entries come with a fun T-shirt or other gift-worthy swag. It's definitely a more interesting and purposeful contribution to your office gift exchange than a bunch of lottery tickets.
So, as you do your holiday shopping, keep in mind that charitable gifts don't have to be boring. Fun gifts can still be purposeful, and in 2015, it's not just better to give than receive — it's better to GIVT than to gift.
44 Top Gifts for Entrepreneurs
You can't give the entrepreneur in your life the gift of time this holiday. But you can give one of these cool, techie gadgets.
Image credit: Shutterstock
You can't give the entrepreneur in your life the gift of time this holiday. But there are at least 44 gifts out there that can make life easier for him or her.
As Christmas and Hanukkah draw closer, consider picking up one of these items for that ambitious, driven entrepreneur on your list:
1. A5+ powered speaker
These premium "bookshelf speakers" guarantee high-quality music, podcasts and even white noise with an unobtrusive and chic design. They're the speakers that don't look like speakers and won't interrupt your interior decor.
2. Airmega
Need another option for an air purifier? Go smart with Airmega, a powerful, stylish and effective option that will keep homes and home offices clean. Plus, they blend in effortlessly to any room.
3. ALALA
Fashion meets customization with ALALA, a boutique online experience where you can specify materials, cuts and styles, making you the designer of couture.
4. Beddit sleep tracker
Don't just sleep better, sleep smarter. It's easy when you can track your sleep hygiene and know exactly when you're getting the best REM-fueled sleep. Beddit is the smart bed for which you've been searching.
5. Behmor wifi coffee machine
Every entrepreneur needs to customize his or her caffeine. With the Behmor, controlled via wifi if you prefer, you get the perfect cup every time.
6. Casper mattress
Casper isn't just a mattress — the package includes pillows, sheets and bedding personalized for the recipient's needs and desires. Quality sleep is a must for any entrepreneur and this is the gift that keeps on giving.
7. Dyson air purifier
Get cleaner, healthier air without ruining the aesthetics of a room. The Dyson offers a sleek, white design that's a work of art in itself (all while keeping allergens at bay).
8. E02 by Electric Objects
Can't decide which painting to hang in your office? Get the E02 and have access to more than 20,000 masterpieces that can constantly stream on a screen. Find one image you like; then you can choose the best to feature for as long as you like.
9. Electrolux EFLS617STT
Many entrepreneurs have polished an investor pitch or business plan while simultaneously tackling loads of laundry. With an Electrolux just a few steps from your home office, you get smart front-loading boost technology to keep the home front running smoothly.
10. Emio smart Christmas music light
Gift smarter this holiday season with smart lights that last longer and come complete with musical accompaniment. Hey, even entrepreneurs can get into the holiday spirit.
11. Exploride
There's no need to wait for the future of driving technology when you can turn any car into a smart car and zip around to client and investor meetings. Right now, pre-orders are available so make sure to get onto the list.
12. Fossil Q watch
Get both style and high tech functionality with the Fossil Q. It's for Android, and the smartwatch promises more than 24 hours of constant battery life.
13. Gaiam balance ball with pump
Don't dismiss this product until you've tried it out during a 20-hour day. The balance ball helps you keep a straighter spine when sitting. It also gives you a natural core workout you don't even notice.
14. Grillbot
Love grilling but can't stand the mess and time required to clean up after the party? Grillbot is your automatic grill cleaner that goes to work for you, so you can sit back and embrace that food coma (or get back to those investor pitches).
15. HP ENVY 34c 34-inch media display
This relatively small monitor packs a big punch, with its high quality and features. Get the display with Bang and Olufsen for even more kick.
16. iRobot Braava
Have tile, wood or linoleum in your home office? The Braava is the mopping sister of the Roomba and does a good job of cleaning and polishing solid surfaces.
17. iRobot Roomba
Available in a variety of models, colors and styles for every need and budget, the Roomba is the famous electronic maid and picker-upper that helps keep (home) offices sparkling.
18. iStock account
Gift an iStock account and never worry about low quality, impossible-to-find copyright-free image curation again.
19. Jack Erwin
Choose a designer who specializes in men's wear from the boardroom to the beach. Quality craftsmanship is what makes Jack Erwin stand out.
20. Jawbone activity tracker
This very affordable (under $20) watch keeps track of your activity and tells you to move when it's been too long. A necessity for any home office worker.
21. Kevo 2
Smart locks are an easy integration of home automation and help keep home offices secure. They connect with Bluetooth and promise peace of mind both when entrepreneurs are home or away.
22. Lavish home sun lamp
Enjoy a stunning design with this sun lamp that's easy on the eyes while making home offices look updated and giving entrepreneurs some much-needed quality light and Vitamin D.
23. Lima
Can't decide which cloud storage option to gift? Lima gives you plenty of terabytes at home, at the office or on the go. Check out Google Drive's fierce competitor.
24. Logitech base charging station
This smart charging stand gives you beautiful design and customization options for your iPad. Plus, you can use it while it charges, so you can stay on the go.
25. Miracle-Gro Bounty Elite aeroGarden
Think you don't have a green thumb? Think again with the Bounty Elite, the largest AeroGarden available, with nine plant and herb pods in gorgeous stainless steel that makes kitchen agriculture easy. It also helps entrepreneurs eat locally and avoid takeout overdrive.
26. Moen Motionsense faucet
Whether the office is at home or you have a kitchenette in a commercial space, touchless faucets help keep kitchens cleaner. Touchless faucets also keep hands away from bacteria.
27. Nadaam
Nothing says Christmas like cashmere and Nadaam kicks this luxury up a notch to make entrepreneurs comfortable no matter what the situation.
28. Nest Cam
Sync your Nest system to the cam and get more security, customization and automation in your home or office. You can talk, see in the dark and get phone alerts.
29. Ninja BlendMAX duo
Once you go Ninja, you'll never blend, crush or pulse the same again. This model comes with two travel-sized bottles to grab and go, making those morning smoothies even faster and easier to enjoy as you rush out for a client meeting.
30. Parachute
Top of the line bedding is an accoutrement to a high-quality mattress. Send your entrepreneur into 2017 well rested.
31. Petmate Replendish
Don't worry about Fluffy or Fido going without water while you hunker over reports. This infinity water dish keeps water fresh and full.
32. Philips Hue Go
Go smart and colorful with these LED personal lighting systems from Philips. Wireless and personally sized, with a price tag under $100, the lighting systems are a great stand-alone gift or stocking stuffer for entrepreneurs looking to save on home office lighting costs.
33. Raden travel carrier
Ultra light, good-looking and compliant with FAA guidelines, this bag means entrepreneurs have never looked better at the airport. This bag is a must for all those business trips.
34. Ray super remote
This touchscreen universal remote lets you automate just about every electronic in your home. The name says it all. There's no better way to take a break from the daily grind than with a flawlessly synced system.
35. Ring security camera
Choose from a variety of ring security cameras that connect to your doorbell so you can see who's calling, whether you're home or away. It syncs to your mobile device and allows for a voice function, too. That allows you to talk remotely to whoever is at the door.
36. Roku 4
This ultimate streaming media player, in a small, unassuming box, offers thousands of options for entertainment. Get your favorite shows streaming and make commands with the intuitive voice control system.
37. Sleep Number mattress
What's your number? Sleep Number is a famous customizable mattress available with the latest technology to help you get better sleep.
38. Spyder iPhone battery case
Give your iPhone an upgrade with the world's best and longest-lasting battery case. It's the perfect complement to that new iPhone you're gifting, too!
39. SWICH charger
Charge your devices anywhere and everywhere with the SWICH wireless charging stand. Qi technology promises a fully charged smartphone or tablet all day long.
40. Swopper chair
Design your own and experience what ergonomics can do for the office life. Each chair is unique and crafted, to give you a neutral spine and pain relief.
41. The Cube
A mobile mini projector, this device is dubbed "the first big screen that fits in your pocket." Take your big league entertainment anywhere, including your next pitch session.
42. Tile
It happens. Entrepreneurs get so busy that they can misplace a wallet. With the Tile app, that will never happen again, meaning you save time, money and headaches.
43. Traeger
These smokers and grillers made a name for themselves based on quality, traditionalism and style. If you know an entrepreneur who cooks to relax, this is the ideal gift.
44. YETI
Founded by brothers, YETI offers a variety of products ideal for the outdoor entrepreneur. You've never seen coolers like this. It's the ultimate gift for the entrepreneur who needs some "me time."
It's the season of giving, and with more entrepreneurs than ever to shop for, your list may need some adjustments. Entrepreneurs are a lot like everyone else, only they do have a few unique needs and desires that come with the territory.
So, whether you go smart and modern or classic in your gift-giving, envision yourself in their shoes with the help of this list and choose a gift your favorite entrepreneur will love.
7 Ways to Navigate the Office Gift-Giving Minefield
Exchanging gifts with co-workers is a pleasant custom that many people find very stressful.
Image credit: Shutterstock
The holidays are abundant with cheer, even at the office, where holiday potlucks and after-hour parties flavor the air with festivities. The holidays can also be filled with stress and confusion, especially when it comes to giving gifts at the office.
Perhaps you have questions about whether you should or should not give gifts to your co-workers, colleagues and clients, along with the ubiquitous money collections. To navigate smoothly through the holiday gift-giving season, here are some tips to follow.
1. Make gift giving optional.
Most everyone enjoys participating in an office gift exchange but some people may choose to opt out. Never make it mandatory to participate. Set a spending limit, usually $10 or less. Create an event such as a luncheon or an afternoon social where gifts can be exchanged, or hold your event after hours at someone's home. If the gift exchange takes place over a meal or at a party, be sure everyone is invited, regardless of whether they want to bring a gift or not.
2. Tailor your gift.
Stay away from the proverbial coffee cup or key ring. Get creative. In other words, try to tailor your gift to the personality of the person. For example, if the person has children, choose a decorative picture frame to adorn their desk. If the person likes coffee, give a gift card to their favorite coffee shop. If you choose the name of someone you don't know very well, you're probably safe in giving a gift card to a popular restaurant, an office supply or home improvement store.
3. Choose appropriately.
Gag gifts and embarrassing items do not go over well in an office environment. What may be funny to you may be offensive to someone else. Also, stay away from gifts that are too intimate or personal, including bath gel, perfume or aftershave. If possible, include a gift receipt so the person can exchange the item if they prefer.
4. Avoid alcohol and tobacco products
The office is not the best place to give wine, liquor or cigars. Remember, stick to your spending limit, if there is one. Save these extravagant items for someone you know well and give during private parties or outside of work. A better choice may be handmade goodies or food baskets that can be shared with their family, friends or co-workers.
5. Make charitable donations optional
Many offices take up collections this time of year, whether for charitable causes or for a gift for the boss. It is best to allow people to privately make donations, without any pressure. What may be a worthy cause to you may not be important to someone else. Besides, others may have already donated to their favorite cause. If you'd rather not participate, simply say something like, "I appreciate your asking, but I've decided not to participate this year." Your choice is personal, therefore you don't have to explain your decision to anyone.
6. Don't feel obligated to reciprocate.
There's always a chance that someone may surprise you with a gift. Don't worry; you're not obligated to give a gift in return, although you may feel like doing so. Simply say, "thank you" then follow up with a holiday card or handwritten note that shows your appreciation. I tend to collect small gifts throughout the year for this very reason. If someone gives me an unexpected gift, I always have something to give in return.
7. Think outside the box.
If you want to give a gift to someone who has just about everything, you might want to choose a gift for their pet or their children. This is usually more thoughtful than giving a generic gift card or something they neither want or need.
Sometimes the best gifts aren't gifts at all. A handwritten note telling someone how much they are appreciated is more meaningful and will be cherished for a long time.
4 Unique Business Holiday Gift Ideas That Outdo Fruitcake
Forget generic gifts for your professional colleagues and consider one of these gestures, which will be better received.
Image credit: Shutterstock
Homemade fruitcakes, company-embroidered memo pads, oversized sausage baskets, generic greeting cards with entirely too much glitter and Christmas socks: These are the gifts I remember from typical year-end, holiday seasons in business.
Without a doubt, we have all become much more creative in our holiday celebrations and gift-giving, when it comes to professional colleagues. There are still a bunch of great traditional ideas which, when executed properly, can provide an inexpensive and much more meaningful holiday memory than that coffee mug you are considering.
Give handwritten notes.
While your lobby or cubicle may boast holiday greeting cards hung in symmetric harmony, at the end of the season they will all be tossed out and forgotten. Instead of sending a generic greeting card this year, consider creating a unique handwritten greeting for those colleagues who are important to your business. Not sure what to say? Consider one of these approaches:
Thank you. For those who help you daily in your business (and are largely responsible for keeping the entire operation from burning to the ground), offer a genuine and sincere "thank you" for all the work they have contributed over the past year.
Hello. For those with whom you do not regularly correspond, reach out, say "hello" and offer a heartfelt wish of prosperity and success for the future. Also consider ending with a call to action, such as a promise to talk in person in the new year — just make sure to follow through.
Compliment. For anyone who has recently reached a goal or is currently working toward something personal in his or her life, give a sincere compliment and recognition for this person's achievement or accolade, as well as a gesture of support and encouragement.
Inspiration. For everyone else, a simple handwritten message of gratitude and well wishes will demonstrate that he or she is important enough for you to have taken the time to pen a personal message.
In addition to being handwritten, these gestures require personalization and sincerity. Without both, it is just another generic greeting card.
Give time off.
The holidays can be hectic, especially with countless events, parties and socials leading up to Christmas and New Year's Eve. Because of this, consider giving your employees a paid day off in the middle of the week, when stores and other activities are less busy. Your subordinates are probably distracted while multitasking personal and work-related year-end tasks, so the extra time will be appreciated by them and may even benefit the business.
No employees? Consider giving yourself a day off. If you have business partners, agree to swap days, allowing each of you to have a day away from the responsibilities of the office. Are you caught up on your shopping and and looking for something to do on a day off? The new episode in the Star Wars series, Rogue One, releases December 16. Just saying.
Give gift certificates for kids.
As a dad, a big challenge I have is finding (and affording) gifts that are meaningful for my kids while satiating my parenting inclinations (and guilt). Typically, the best gifts my kids receive are from godparents or relatives, who look at the task from an outside perspective (and are willing to give Pokemon versus chemistry sets).
While I may turn out to be the uncreative dad who still gives holiday sweaters, I am still happy the kids received something unique and memorable (with little effort from me).
If your colleague has children, consider a gift for his or her kids. Be careful and avoid gifts that are too personal or otherwise may offend your colleague (a Nerf gun for a family with strong views against guns, for instance). As an alternative, offer a gift recommendation with a gift certificate.
Give an experience.
We all get a little overwhelmed by work responsibilities and neglect important time for ourselves. When we do get time, it is usually at the end of a long week. Making entertainment decisions can be yet another burden our energy-depleted minds cannot handle.
Consider giving the important colleagues an experience, such as a pre-arranged dinner and movie, or tickets to an improv or comedy club or cooking lessons. If your colleague has kids, also consider providing a gift certificate for a trusted babysitter for the evening, so the adults can actually indulge in the adult experience. Not only will this gift avoid the accumulation of meaningless holiday clutter around the office, it will give the child's parents something they will cherish much more — a memory.
In the end, all of these gifts require you to truly know and understand your colleagues. They require you to inquire and listen — leadership traits great leaders master anyway. More than just the actual gift, your gesture will demonstrate a personal and relatable characteristic that will endear you — much more than your Christmas socks.
Bonuses, Parties and Gifts: How Small Business Owners Can Navigate the Holiday Season
These five steps will help you and your employees navigate the busy and often stressful times of the holiday season.
Image credit: Anchiy | Getty Images
Pumpkin spice lattes are flowing and leaves are changing color, which can mean only one thing: This year's holiday season is right around the corner. For small business owners who already juggle more than their fair share of responsibilities, it also means they'll need to manage some unique situations that only arise in November and December.
The holiday season brings with it a unique set of stressors that can test even the most seasoned small business leader. Coping with requests for additional time off, payroll challenges of holiday compensation and the question of how to thank your staff during a peak season can be overwhelming.
Here are a few suggestions on how to conquer some of the most common holiday challenges:
1. Navigating holiday pay.
Private employers generally are not legally required to provide paid holidays to non-exempt employees. However, if you close for a holiday, exempt employees must receive their full salary as long as they work any part of the workweek. In some states, like Massachusetts and Rhode Island, certain employers may be required to provide premium pay to non-exempt employees who work on a holiday. Some things to keep in mind when considering how to treat holiday pay are applicable laws, your company's resources, business needs and practices in previous years.
2. Determining holiday bonuses.
Holiday bonuses are a great way for employers to recognize and reward employee accomplishments. There are generally two types of bonuses: Discretionary and nondiscretionary. Most employers provide nondiscretionary bonuses, which are generally announced to employees in advance to encourage them to work more efficiently and/or to remain with the company. With this type of bonus, employees expect that if they meet certain criteria (such as attendance or productivity), they will get a bonus. By contrast, a discretionary bonus is not announced in advance and is not tied to meeting certain criteria. Remember that most bonuses must be factored into an employee's regular rate of pay when determining overtime.
3. Creating time-off policies.
The holiday season is a popular time for employees to request vacation, so provide employees with instructions for requesting time off and clearly communicate how vacations will be granted (based on scheduling needs, seniority, first-come first-served or a combination of these factors). Some employers see a rise in unscheduled absences before and after a company holiday. To help address this, consider encouraging non-exempt employees to work the day before and after a holiday to receive holiday pay (unless the time off was scheduled in advance). Also, consider incentives to help limit unscheduled absences, such as an extra vacation day to employees who work during less desirable times or who meet certain attendance and punctuality benchmarks.
4. Planning a holiday party.
A holiday party can be a simple way to recognize employees' efforts and boost morale going into the new year.  If you plan to host a holiday party, there are some important things to keep in mind:
Pay: If you plan to host the party during work hours, employees will likely be entitled to pay for time spent at the party. And if attendance is mandatory, regardless of where and when the party takes place, such time may also be considered hours worked.
Liability: Before the party, consider consulting legal counsel regarding the potential liability for serving alcohol at company events. If alcoholic beverages will be served, limit intake and ensure there is plenty of food as well as non-alcoholic beverages available. It's always good to check with your insurance provider to determine what your coverage and liabilities may be during the party.
Conduct: Remind employees that you will enforce workplace rules, such as dress codes and anti-harassment policies, regardless of whether the party is held during work hours or on company premises.
5. Setting gift-giving standards.
During the holidays, vendors may give employees gifts, or employees may want to give clients gifts. Because gifts can raise concerns about conflicts of interest, consider establishing written guidelines around giving and receiving gifts. Many employers limit gifts to a nominal value and require employees to report gifts to the company.
Even if all of these challenges arise at the same time, sound preparation can see you through the busy season. Planning and communicating your expectations early will get your employees on the same page and set a standard that can pre-empt many problems. While the holiday season can be stressful, it also provides a great opportunity to acknowledge the hard work employees have done in the past year and to boost employee morale. So kick back. Enjoy that pumpkin latte.
No Idea What to Get Dad for Father's Day? Try These Gifts From Twillory, Dollar Shave Club and More.
Father's Day is just around the corner, and Entrepreneur Network partner Jessica Abo has you covered in this video about great gifts to give those guys in your life you'll always love.
Abo speaks with smart shopping expert Trae Bodge at Bar Works in New York City, who recommends brands like Twillory for clothing, the Casper pillow, Dollar Shave Club for grooming items — and more in store for Dad this year.